Breeding in nestboxes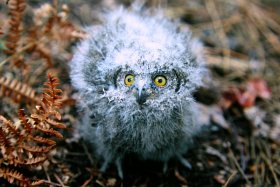 Scops Owl chick. Picture by D. Centili
In 2002, 11 nestboxes were installed in the "Laguna di Orbetello" (Orbetello lagoon) Nature Reserve, managed by WWF-Italy, in order to study the reproduction of Scops Owls Otus scops.
In 2003, five more nest-boxes were mounted for a total of 16.
Scops Owls immediately started occupying the nest-boxes and to date around 150 owls have hatched in them.
In the Nature Reserve, this owl first bred in nestboxes installed by Biologist Alberto Sorace in 1990.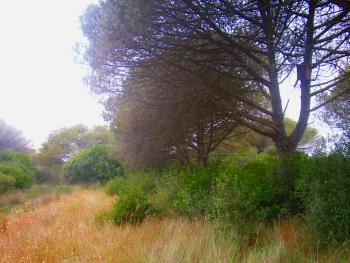 Nestbox no.5. Picture by D. Centili
Nest boxes are installed along hedges, in small tree clumps and in old pine Pinus pinea plantations. They are fixed on tree trunks by means of wire at heights of 2.5 - 4.0 m.
Nestboxes are monitored at least three times each year during the breeding season (late May to early August) to check for occupancy by nesting birds and record breeding phases, and again in late winter for cleaning and maintenance.
Go to the map of the 16 nestboxes