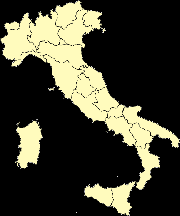 Location of the Nature Reserve "Laguna di Orbetello" (Orbetello lagoon) managed by WWF-Italy
Orbetello Banding Station
The first Italian owl banding station was initiated as an experiment at WWF-Italy's "Laguna di Orbetello" (Orbetello lagoon) Nature Reserve in 2002 and 2003.
The exact location was "Casale Giannella" (42°30'N, 11°10'E).
The banding station targeted primarily Scops Owls Otus scops and operated in September 2002 and August 2003 during the post-breeding migration to Africa and in April-May 2003 during the pre-breeding migration.
The Grosseto Province provided partial financial support in 2002; WWF-Italy helped with logistics in 2002 and 2003 thanks especially to Mr. Marco Carsughi, former Director of the Nature Reserve "Laguna di Orbetello".
Go to the results